VERBAL RAZORS is a thrash crossover quartet formed in Tours in 2008. Composed of a thrash metal base with punk hardcore vocals, the band embodies the quintessence of the authentic crossover, in the tradition of the genre founding bands (Nuclear Assault, Exodus, SOD).
After the first EP 'Settling of scores' in 2009, VERBAL RAZORS gradually built the foundations of a powerful and aggressive sound through the european punk and metal scenes, and released their first album 'Verbal Razors' in 2014, whose slogan remains " Rock'n roll ", as it is inhabited by a mastered science of riffing. Associated with the new thrash scene (Municipal Waste, Iron Reagan), they are though detached by their attitude and their conscious words, far from teen vociferations and thrash clichés.
Worn by a chanted, violent and hallucinated voice, the songs go straight to the point. The second and last album, 'Misleading Innocence', recorded by Amaury Sauvé (Birds In Row, Burst One's Side) in 2015, sets the tone in an even more brutal style.
VERBAL RAZORS shared the stage with Municipal Waste, Gama Bomb, Trash talk, M.D.C., Sodom and will be playing the 2017 Hellfest.
Simon – Vocals • Matthieu – Guitar • Pierrot – Drums • Vincent – Bass
Physical releases
2009 : VERBAL RAZORS "Settling On Scores" – Vinyl 12″ | selfreleased
2009 : VERBAL RAZORS "Verbal Razors" – CD, Vinyl 12″ | Dirty Guys Rock (F), Dingleberry Records (Ge)
2016 : VERBAL RAZORS "Misleading Innocence" – CD,Vinyl 12″ | Dirty Guys Rock (F), Dingleberry Records (Ge)
2017 : VERBAL RAZORS "Misleading Innocence" – Vinyl 10″ | Knives Out Records (F)
VERBAL RAZORS
"Misleading Innocence"
(Vinyl / CS)
VERBAL RAZORS "Misleading Innocence" Picture Disc vinyl • Classic Edition
Knives Out Records
2021-05-27T18:59:50+00:00
VERBAL RAZORS "Misleading Innocence" Cassette Tape • Classic Edition
Knives Out Records
2021-05-27T18:59:57+00:00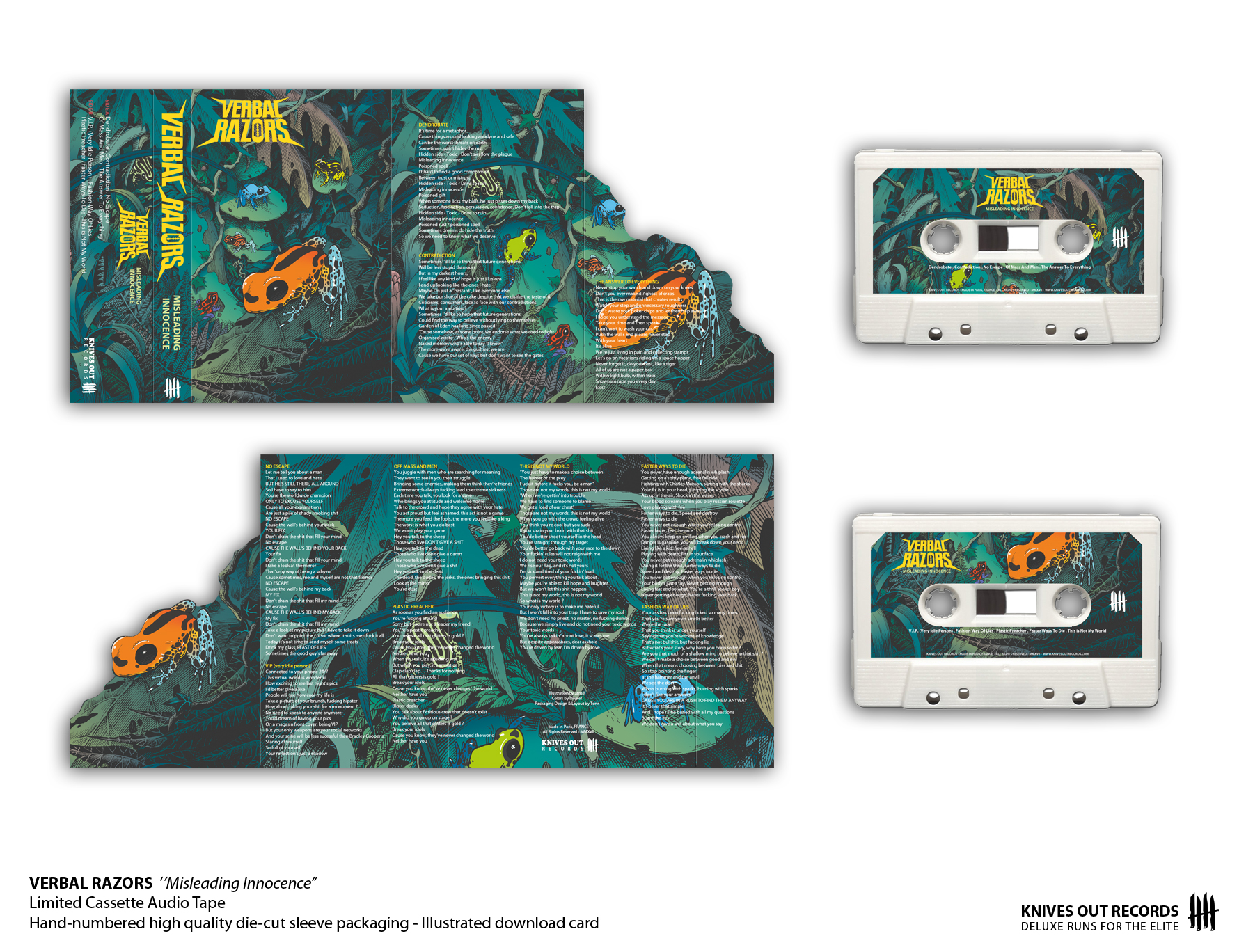 VERBAL RAZORS "Misleading Innocence" Picture disc double Edition
Knives Out Records
2018-08-29T21:55:43+00:00
Share this